WARNING
The following photos show graphic evidence of abuse at Caboodle Ranch. These images may be disturbing to sensitive viewers.
Exhibits 14, 15, and 16 presented the court with specific examples of the disease and neglect that characterized Caboodle Ranch.
Exhibit 14: Cat #029
Exhibit 14 chronicles the treatment of Cat #029, a male cat with an upper respiratory infection so severe that he is now completely blind.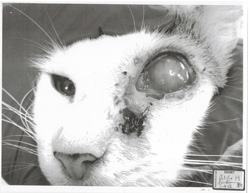 This cat's right eye had a mature cataract. The left eye had an enlarged cornea and conjunctivitis, with pus and discharge present, and a yellow abscess on the eyelid.
The pain was intense.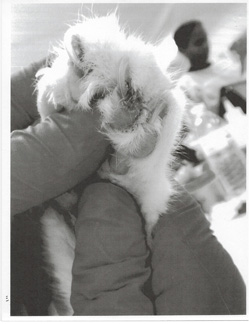 Cat #029's toenails were painfully ingrown and had pierced the pads of the feet. His paws were swollen and leaking pus.
Medical notes also indicated that the cat was:
10% dehydrated
hypothermic, with a temperature of 98.7, well below the feline average of 100.5 to 100.7
suffering from URI's from 3 different infectious agents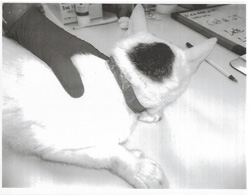 Cat #029 had been tagged by Caboodle Ranch with the identification "10-4": he was not feral.
Dr. John Lewis, Caboodle Ranch's veterinarian, testified that this cat had never been presented to him for treatment, and that it required immediate medical care.
This image was taken on April 29th, 2012, after treatment.
The cat's left eye was surgically removed. The right eye remains painful. He is completely blind. Overgrown nails were cut.
Approximate cost of treatment was $300 to $500.
Exhibit 15: Cat #039
Exhibit 15 chronicles the treatment of Cat #039, who essentially starved to death while under the care of Caboodle Ranch.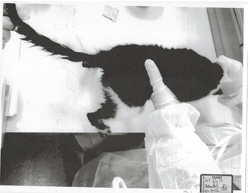 Cat #039 was severely emaciated, with infected teeth and gums that prevented him from eating comfortably. He suffered from severe diarrhea, was unable to move, and was covered in his own waste.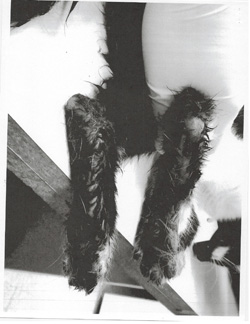 Cat #039 had lain in his own waste for so long, he suffered chemical burns from it.
Medical notes:
Body condition: 1 to 2/9
8-10% dehydrated
21% anemic
Ataxic (could not stand or walk)
Inflamed and receding gums
Chronic diarrhea
Tested positive for 6 different conditions that cause diarrhea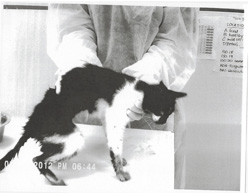 Cat #039 was immediately transferred to a veterinary hospital and was given a blood transfusion. Unfortunately, despite the best efforts of the veterinary staff, the cat could not be saved. He was humanely euthanized a few days after the rescue.
Exhibit 16: Cat #069
Exhibit 16 chronicles the treatment of Cat #069, a cat with an upper respiratory infection that led to neurological damage.
Cat #069's story has a happy outcome, and a bright future.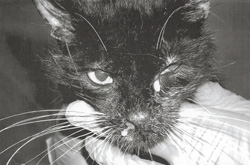 Cat #069 suffered from a severe upper respiratory infection and a painfully ruptured eardrum.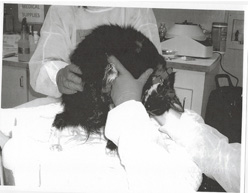 Medical notes:
Body condition: 3/9
21% anemic
Significant ocular and nasal discharge from URI
Suffered from two infections causing URI
Ear was filled with pus from a bacterial septic infection
Eardrum was painfully ruptured
Ataxic, unable to walk properly or hold up head
Neurological damage caused involuntary eye movements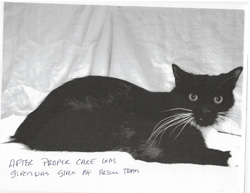 Cat #069 was unable to reach food or water on his own, but with nutritional support and water, and treatment with antibiotics for the infections, he recovered.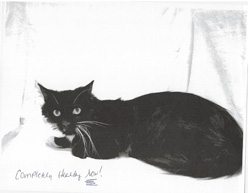 A survivor.