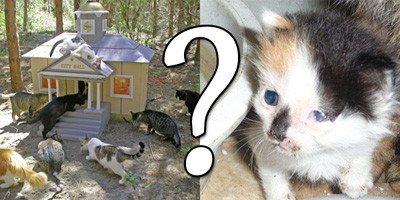 In November of 2003, a man named Craig Grant opened a sanctuary for cats: Caboodle Ranch. The sprawling 25-acre property was decorated with brightly-colored, cat-sized buildings, and many visitors were charmed by this adorable cat utopia.
But as the years progressed, rumors of hoarding, neglect, and illness darkened the image of Caboodle Ranch. Complaints were filed with local animal control. Pictures emerged showing sick cats mingling with healthy ones. News of cats being preyed upon by coyotes surfaced.
And people began to question whether Caboodle Ranch was the utopia it appeared to be.
In February of 2012, PeTA released an undercover video of the conditions at Caboodle Ranch. The video showed unspayed cats with litters of kittens, filthy rooms, uncleaned litter boxes, a refrigerator of medicine and food swarming with maggots, and most damning of all, image after image of cats ravaged by illness.
On the basis of evidence gathered, Sheriff Ben Stewart obtained a warrant for the arrest of Craig Grant and the seizure of Caboodle Ranch's cats.
Fans of the Ranch were horrified at the news. Some angrily declared that PeTA and the Sheriff were conducting a vendetta against Craig Grant, and that the video was staged. Some acknowledged that the Ranch had problems, but maintained that the Ranch should have received assistance instead of being shut down. And some investigated the claims against the Ranch, and decided that they had been deceived by the brightly-colored fantasy world Craig Grant had created.
The purpose of this site is to lay out the evidence and arguments so that you, the reader, may form your own conclusions about Caboodle Ranch.
After you have reviewed the evidence, we invite you to share your opinions on Facebook.