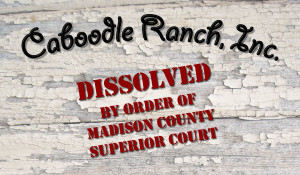 No wonder Caboodle Ranch has been so quiet!
On June 27th, 2014, the court handed down a stunning defeat for Caboodle Ranch. Caboodle Ranch is ordered to:
Dissolve Caboodle Ranch.
Immediately stop accepting animals.
Immediately stop accepting donations of cash or materials. (As of July 1st, Caboodle Ranch is in violation of this agreement, as they are still soliciting and accepting donations on their website.)
Remove all animals from the property, including the 45 animals being kept there illegally.
Liquidate all assets.
Cease all expenditures.
Ensure that Madison County Animal Control has access to all areas of Caboodle Ranch to conduct random, unannounced inspections.
If Caboodle Ranch fails to meet any of these requirements, they will be held in criminal contempt of court and subject to sanctions.
By no later than October 1, 2014, Caboodle shall be finished "winding up" and "liquidating" its affairs and be dissolved. To be clear, by this date, Caboodle shall no longer be conducting any affairs, "winding up" or otherwise, shall not have possession or custody of any animals, shall not own any assets and shall not open any bank accounts.
What does this mean for Caboodle Ranch?
For the short term, it means that Caboodle Ranch is finished in the state of Florida. They have been ordered to dissolve the nonprofit entity known as Caboodle Ranch, and if they choose to start a new scheme to solicit donations, it will be at least a year before they can do so as a nonprofit.
Furthermore, given Caboodle Ranch's criminal history, it is unlikely that the IRS will grant them a new nonprofit exemption.
Caboodle Ranch raked in a quarter million dollars in one year from deceived donors, and they're not going to give up that scheme willingly. However, they'll have a much harder time gaining a toehold. If Caboodle Ranch resurfaces in Georgia, as they have vowed to do, they will find that the local government is no more willing to put up with fraud and animal cruelty than Madison County was.
But this time, the authorities have been warned…. and they are ready.
We will bring you further developments as they happen.